Machaca Jerky Burrito
Recipe by Chef Matt Troost
Preparation
15 mins
Servings
4
Share
Ingredients
4 Tbls vegetable oil
1 Large white onion, small diced
3 Fresh fresno chilis, seeded small diced
4 Cloves garlic, peeled and finely chopped
1 Tbl ancho chili powder
2 Tbls tomato paste
1 Cup chicken stock
Salt
To Assemble
Burrito wrap
Sour cream
Cilantro
*Season lightly every step of the way*
Directions
Chop the jerky by hand into smaller chunks and then put in a food processor and process until small and pebble sized.
Get a large sauté pan hot and add oil, then jerky, onion, garlic, chilies and chili powder. Sauté until onions start to soften.
Add tomato paste and cook out.
Add chicken stock and lower heat and cook until jerky is soft and most of the liquid cooks out, about 5 minutes. Taste and adjust seasoning.
To assemble, warm the burrito wrap, add machaca, cilantro and sour cream and roll into a burrito.
Featured Jerky
Featured Jerky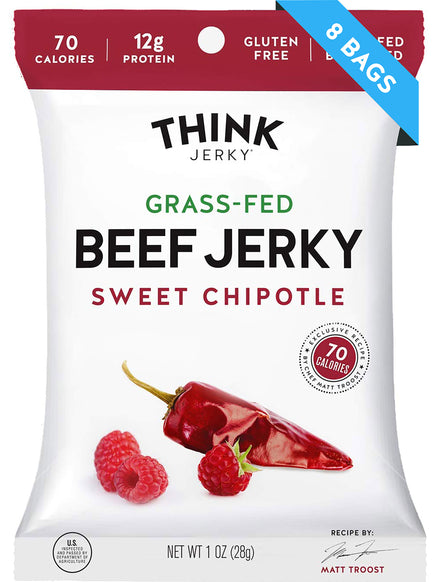 Sweet Chipotle Beef Jerky
By Chef Matt Troost
Chef Troost's recipe combines real raspberries with a three-pepper blend for a spicy finish.
$26.99
More Recipes
Sesame Teriyaki with Chef Gale Gand
By Chef Matt Troost
Gale Gand's recipe combines sesame and spices for a distinct, East Asian flavor.